The Empire Tractor Corporation 1946 – 1950
The history of the Empire Tractor Corporation is sketchy at best, but due to recent information provided by the daughters of the former president of Empire, the pieces are starting to fall into place. Information was also obtained through records found in the U.S. National Archives. The information provided here is believed to be true as of September 2012.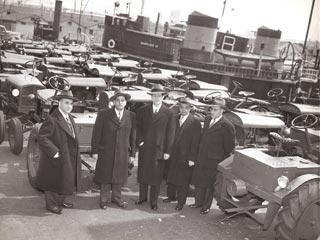 The company was founded by Frank Cohen and had its main offices in New York City, at least in the beginning, and manufacturing facilities in Philadelphia, PA, at 3700 Main Street. During WWII Mr. Cohen, through several companies he owned, manufactured and provided military components and materials to the European Allies and the U.S .Government. After the War and needing to use his factories for peace time purposes, Mr Cohen conceived the idea of building a farm tractor that could be used to help War devastated countries get crops back in the ground and food back on the tables.
The Empire Tractor Corporation was incorporated in the state of Delaware in mid-1946 with production of the Model 88 Empire beginning about September of that year. The tractor was designed for use as a general purpose two-bottom plow light duty farm tractor. The Model 88 Empire used rebuilt war surplus Willys, and some Ford, 134 cubic inch four-cylinder engines, Warner Gear T84 four-speed transmissions (some later T90 units were also used on late production Model 88 tractors), Spicer Model 18 transfer case with high & low range, a PTO output with dual levers and the Willys front drive differential. The dual lever PTO (used on the amphibious Jeep) drove the rear pulley and a V belt pulley located behind the levers. A roller chain final drive was used along with disc brakes at each rear wheel.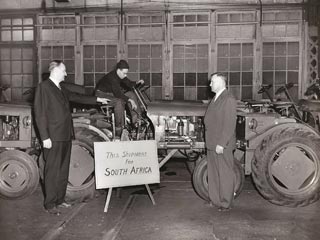 Components for the Model 88 Empire were purchased from the U.S. Government after WWII. The later Model 90 (88-90) tractor used the civilian 134 cubic inch Willys engine with the improved Warner Gear T90 transmission, single lever PTO, the Model 18 Spicer transfer case and the Willys rear drive differential. A final drive was again used to lower the speeds to the rear wheels and individual disc-type rear brakes were used. Engines and components were now being purchased from Willys Overland.
The tractor came with rear belt pulley, large steel deck area, tool box, gauges, governor, head lights and rear light. Several different seats were used with the Monroe E-Z Ride being most commonly found on the Model 90 tractors. Instruments included a temp gauge, amp meter, oil pressure gauge, starter button, ignition switch and governor notched "T" handle for speed control. The straight bar hitch was unique (and patented) as it pulled from under the center of the Empire making an overturn nearly impossible. With the high-low range transmission, speeds were such that the tractor could be used for low speed farm work or make a high speed trip to town for supplies.
The model of the Empire changed from 88 to 90 about serial number 3,000 in early- or mid-1947. Most model 90 tractors had stamped on the data plate "88-90" as the company was using up the extra 88 serial number tags. The major change between the two models was the switch from military surplus to civilian engines, transmissions and other components.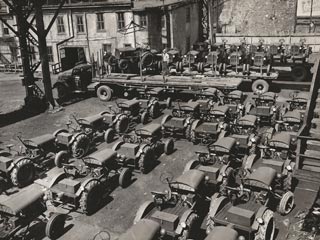 The Empire tractor was originally made for exportation only with no intention of selling in the U.S. or Canadian markets. In exchange for not selling any tractors in these markets and compete with other US tractor companies, Empire was able to purchase war surplus rebuilt engines and components from the U.S. Government at low cost. The Empire was to be sold to the U.S. government for use in the United Nations Relief and Rehabilitation Administration (U.N.R.R.A.) program after World War II and to other foreign countries.
We know that the first 46 tractors were shipped to South Africa, another 4,300 going to Argentina and another 800 going to China, Poland, Greece, Mexico and other countries. In total about 5,300 tractors were exported by mid- to late-1948. Production of the Empire had pretty much come to an end by December of 1947 with deliveries being made from the huge inventory that had piled up at the factory.
During this time a problem occurred when Argentina claimed the tractor was not suited for farm work in that country and refused further deliveries to complete the 7,000 tractor order they had with Empire. The Argentine government and its agents at this time were very corrupt which may have had something to do with this issue. A few of the tractors shipped to Mexico and other countries experienced a problem with the short right side axle breaking. It was also about this time that an article in Time magazine appeared saying the Empire was not well made and should not have been sold.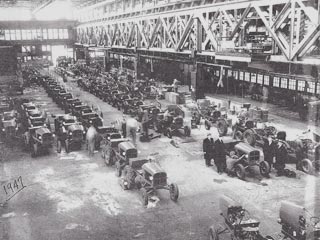 By mid 1948, these and other issues left Empire with over 1,200 tractors in Philadelphia with no buyers. In October 1948 an involuntary petition in bankruptcy was filed with receivers being appointed by month's end. In early 1950 the assets of Empire Tractor Corp. were sold with all creditors being satisfied. The 1,294 Model 90 Empire tractors in inventory at that time were sold through distributors and dealers in the United States and Canada for about $700.00 each. This 1,294 plus the 5,369 tractors exported brought total Empire tractor production to an estimated 6,663. The Delaware Charter for Empire Tractor Corp was declared inoperative in 1951.
In the end, the Empire proved to be well suited for orchard and other light-duty chores, but was not designed for heavy-duty farm work. If we had to mention a couple of things that made the Empire Tractor really unique, one would be the straight bar hitch that pulled from under the center of the tractor (patented) thus making an overturn nearly impossible. The other selling point of course, was the Willys engine and drive train made famous in the Jeep during World War II. Nothing but good can be said about this combination of power and versatility especially after the heavy T-90 transmission was introduced. The Empire was a well equipped tractor, very reliable and versatile with its wide range of speeds. Today this tractor draws a lot of attention at shows and is very sought after by collectors commanding higher than average prices.
The Empire Tractor Newsletter provides a source for many parts, information and tractor specifications and also sponsors an Empire EXPO meet each year. We keep track of all known tractors by serial number and to date have located over 380 tractors in the U.S., Canada and around the world.
Much more in-depth and detailed Empire Tractor Corp. history is available in back issues of the Empire Tractor Newsletter. Please inquire.
Best regards,
Carl Hering